Run Riot Racing is our custom racing vehicle – Western Australia's only Twin Turbo V8 Gemini!
Andrew Parker has spent years building, testing, modifying and developing this unique custom car, and is a regular at the Perth Motorplex and other private Burnout Competions around the state.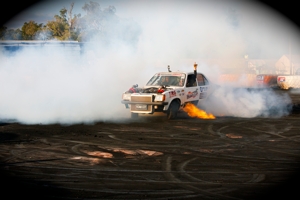 Run Riot Racing currently runs a custom in house built twin-turbo LS Chev 7 litre Dart block, CNC cylinder heads, solid roller camshaft and plenty of other high performance parts.
Two large Bullseye Borgwarner turbos run through twin Custom PWR water to air intercoolers into custom intake setup. Drive runs through a Turbo 400 gearbox, custom 3.5 inch tailshaft and custom 9 inch full spool diff.
Two massive Aeromotive fuel pumps feed methanol to a custom electronic Haltech fuel injection system.
Run Riot has been built predominately for Burn Outs, but is also uniquely capable of going the 1/4 mile, with a best time of 9.02sec.
Not only does your mechanic Andrew know how to drive, he also has the personal expertise of high performance vehicles and their ups and downs.
Run Riot Racing has appeared on several televised Burnout competitions, appearing on Fuel TV.
All work carried out on Run Riot Racing is done so from the workshop of A1 Mechanics Kewdale, located at 5/7 Marchesi Street, KEWDALE WA 6105.